Father's Day is coming up and our handpicked specials are just what you need to celebrate the dad(s) in your life in style!
Our papa specials feature delicious chocolates that literally say I love you; gourmet pâtés and rillettes by Groix & Nature, Les Mouettes d'Arvor, and Rougié; and fruits in liqueur by Distillerie du Périgord and Peureux.
We have also included handsome French language greeting cards, beautifully crafted knives, an Eiffel Tower corkscrew, a French wine map jigsaw puzzle, and even a fun Maillot Jaune soap for the cycling fans.
Get ready to spark joy!
Marianne
Founder & Gourmand-in-Chief
P.S. Our May promotion is almost over: 20% off all our strawberry treats with code FRAISE. Don't miss out!
Just in: more French favorites
Among the French favorites recently added to our shelves you will find Brets potato chips from Brittany in summer truffle flavor,Goulibeur savory sablés with onion, Abel 1898 culinary oils, Sabarot dried ceps and dried mixed forest mushrooms grinders, Favols raspberry and biscuit rose jam, Les Comtes de Provence organic orange spread, and Mon Pari Gourmand gourmet caramels with fleur de sel and gingerbread.
If there is a French treat you would like to find on our website, please share your craving with us.
Suggestions for your French agenda
There is plenty of exciting on-site French cultural events all around America. Enjoy your picks!

Chicago's Art Institute presents Van Gogh and the Avant-Garde: The Modern Lanscape. Through September 4.
The Cleveland Museum of Art presents Nineteenth-Century French Drawings. Through June 11.
The Denver Art Museum presents The 19th Century in European and American Art.

The Museum of Fine Arts, Houston presents Impressionist and Post-Impressionist Masterpieces from the Pearlman Foundation. Through September 17, 2023.
In Los Angeles the Academy Museum of Motion Pictures presents Director's Inspiration: Agnés Varda, an exhibition showcasing the work of the most prominent female director of the New Wave. Through March 17, 2024.
In Los Angeles, the Getty Museum presents Porcelain from Versailles: Vases for a King and Queen. Through March 3, 2024.
In New York FIAF (French Institute) presents its new film series, Classic French Comedies. Through July 25.

The 2023 edition of Films on the Green, New York City's free outdoor French film festival, is almost there. June 2 through September 8.
In Philadelphia the Rodin Museum presents Rodin's Hands. Through December 2023.
The Saint Louis Art Museum presents Monet/Mitchell: Painting the French Landscape. Through June 25.
In Washington, DC Marc Chagall's magistral Orphée mosaic in on view in the sculpture garden of the National Gallery.

Try out our recipe for cherry tomato & tapenade tart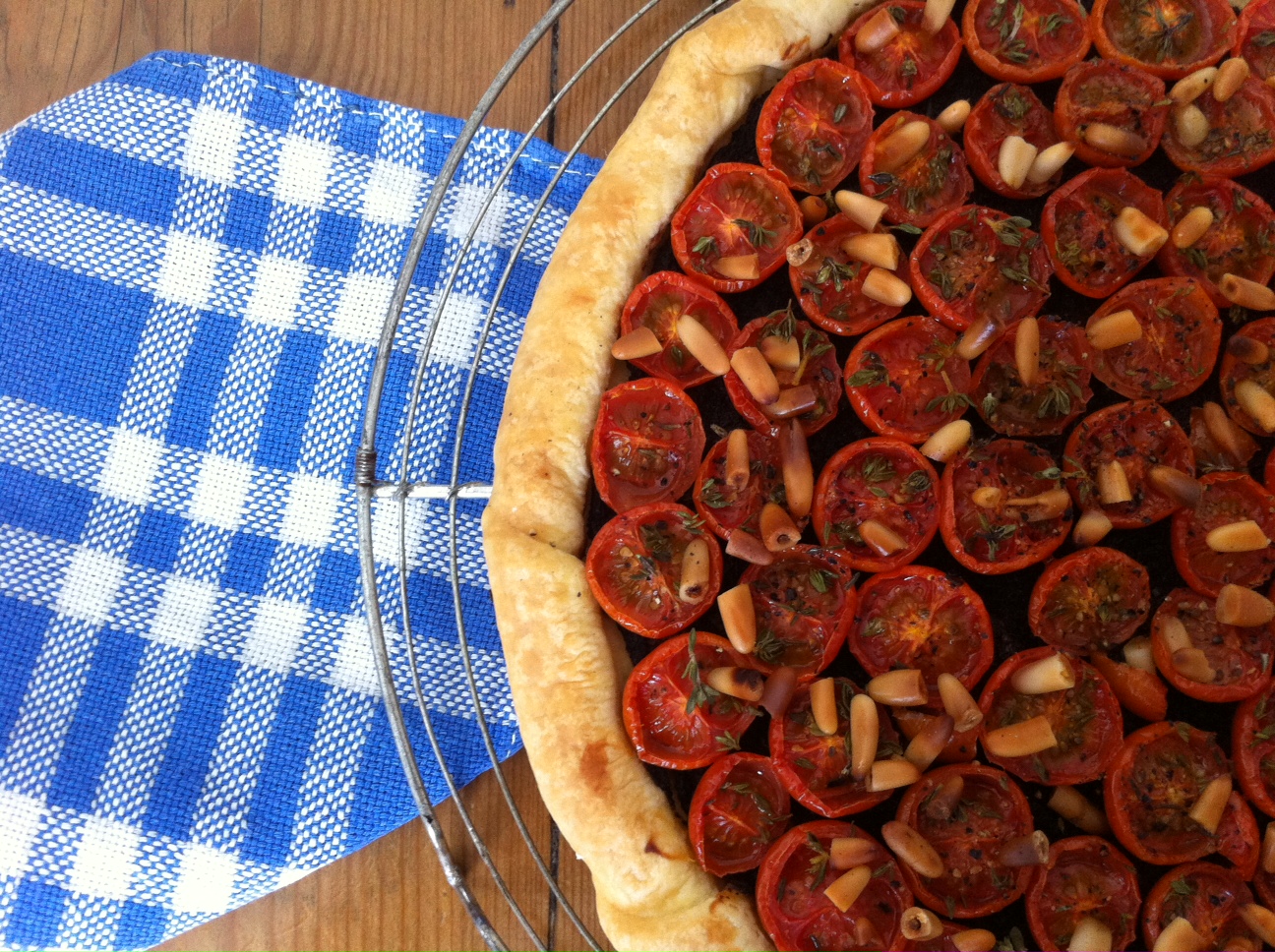 Accompany this scrumptious centerpiece with a green salad.
Ingredients (serves 4)
1

circle of pie crust (try our

recipe

)
20 cherry tomatoes
1 Tbsp Dijon mustard
3 Tbsp black olive tapenade
1 Tbsp pine nuts
2 Tbsp

olive oil
1 sprig fresh thyme (or rosemary)
pepper
Directions (20 minutes active time)
Preheat your oven to 180ºC (350ºF).
Lay the pie crust on a buttered tarte tray and make tiny holes with a fork. Bake for about 5 minute without anything on top of the tarte.
Remove from the oven. Spread a layer of Dijon mustard, then a thicker layer of tapenade.
Lay the cherry tomatoes cut in halves, bottom down. Sprinkle the thyme (or rosemary) and pine nuts. Add some pepper (no salt, the tapenade is salty enough) and olive oil. Bake for about 30 minutes.
Serve warm or at room temperature with a side of watercress, for example, and a glass of cool rosé.