This precious countdown to Christmas has it all: charming, sparkling design; a different mini jar of Bonne Maman delicious fruit spread or honey every day; simple, natural ingredients. It's both a beautiful and exciting holiday treat for your family and a lovely gift idea.

Just in: more French food favorites
Suggestions for your French agenda
There are so many exciting French cultural events all around the USA this and next month. We hope you'll enjoy our picks!
Boston's Museum of Fine Arts presents French Pastels – Treasures from the Vault. Through January 6, 2019.
University of Chicago's Doc Films presents From The Other Side: The Films of Chantal Akerman. Through December 5.
The French Slam Connection returns to Chicago for another wonderful cultural exchange organized by Zurg and Yopo of Ligue Slam de France and Marc Smith, founder of the Poetry Slam. October 25 through November 4.

Chicago's Alliance Française presents three US premieres straight from the Champs Elysées Film Festival in Paris. November 2.
Cincinnati's Taft Museum of Art presents Paris to New York: Photographs by Eugène Atget and Berenice Abbott. Through January 20, 2019.
In Davenport, IA the Figge Museum presents French Moderns: Monet to Matisse, 1850-1950. Through January 6, 2019.
In Kansas City the Nelson-Atkins Art Museum presents Napoleon: Power and Splendor. October 26 through March 10, 2019.
Miami celebrates recent French films with its festival France Cinéma Floride. November 2-4.
In Minneapolis Daniel Buren's Voile/Toile – Toile/Voile major public artwork has its US premiere. Through October 27.
Also in Minneapolis the Trylon film theatre presents Robert Bresson: Transcendence and Austerity. November 4-27.
New York 's French Institute (FIAF) presents Brilliant Quirky: Jeanne Balibar on Film, a two-month restrospective celebrating the César Award-winning actress. Through October 30.
New York's Met Museum presents Delacroix, a broad retrospective jointly produced with Musée du Louvre. Through January 6, 2019.
The Philadelphia Art Museum presents Fabulous Fashion: From Dior's New Look To Now. October 16 through March 3, 2019.
Also in Philadelphia the Barnes Foundation presents Berthe Morisot: Woman Impressionist. October 21 through January 14, 2019.
In St Louis, MO City/Cité: A Transatlantic Exchange brings together influential French scholars, activists, performers, policymakers, and non-profit leaders and their counterparts in the Gateway City to engage in a public dialogue about immigration, diversity, integration, discrimination, inequality, and the future of the city. October 18-20.
In Washington, DC the National Gallery of Art presents Corot: Women. Through December 31.
In Washington, DC la Maison Française presents Paris: A Hundred Villages, a film series revolving around the City of Lights. Through October 23.
Last but not least, incredibly young and successful electronic musician Petit Biscuit (we love the name!) embarks on an extensive North America tour. He will perform in Chicago, Detroit, Montreal, Boston, Philadelphia, New York City, Washington, DC, Austin, Dallas, Phoenix, San Diego, Santa Ana, CA, Los Angeles, Portland, OR, Vancouver, Seattle, and Mexico City. October 17 through November 17.
Critically and publicly acclaimed French-Rwandan author, songwriter, and hip-hop artist Gaël Faye will soon come the United States. His book tour will stop in Notre Dame, IN, Chicago, Milwaukee, and New York. October 22-27.
Try our recipe for mogettes au jambon de Vendée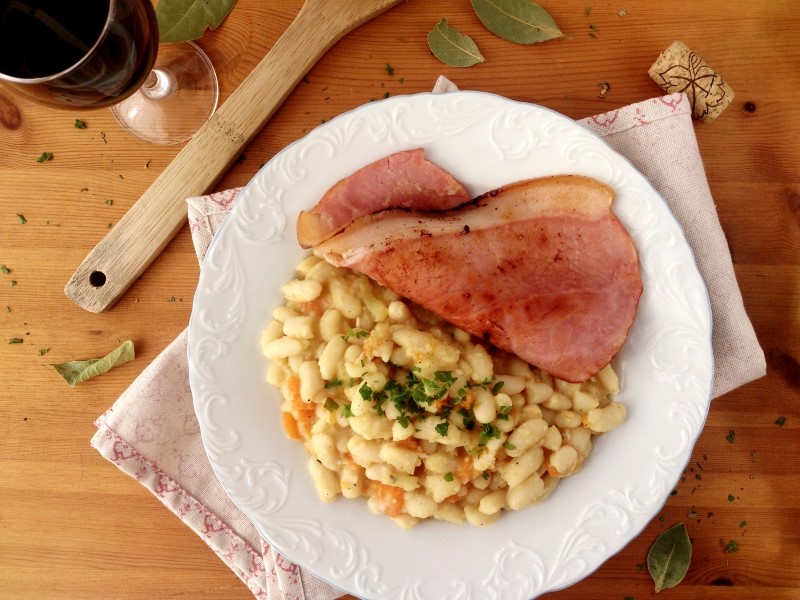 This earthy traditional dish from western France is particularly delectable in the cold season.
Ingredients (serves 6)
500 g (17 oz) mogettes de Vendée
6 slices jambon de Vendée (pan ham)
4 carrots
2 onions
2 cloves garlic
1 bouquet garni (thyme and laurel)
60 g (4 Tbsp) salted butter
1 handful chopped parsley
salt and pepper
Directions
Soak mogettes in a large bowl of water overnight. Rinse and drain.
Wash and peel carrots, cut them into thin slices. Finely chop the onions. Crush the garlic cloves. Put the vegetables in a large saucepan or cooking pot with 10 g (1 Tbsp) butter and glaze a few minutes, add salt and pepper.
Add in mogettes and cook 2 more minutes, while stirring.
Add in bouquet garni and pour water until mogettes are completely covered. Simmer over medium heat for 1 h 30. Be sure to add a little water if it evaporates too fast.
When mogettes are cooked (their texture is both firm and tender), remove bouquet garni, and add in the rest of butter, salt and pepper. Set aside.
Fry ham slices in a hot pan, about 2 minutes on each side. Serve with mogettes and a bit of chopped parsley.