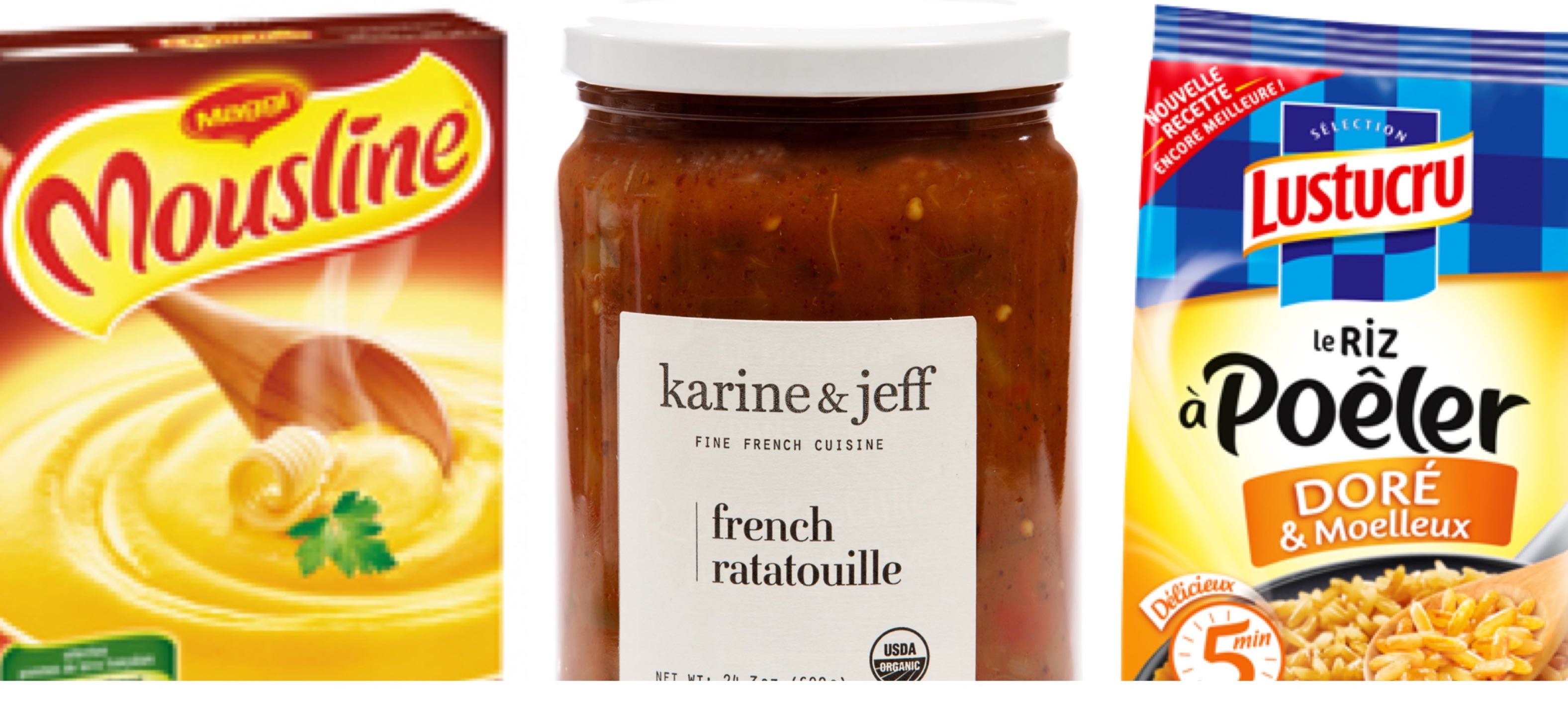 We get it, you don't always have the time to cook. But just because you have a lot on your plate doesn't mean you should forego an enjoyable French meal, especially when there are so many ways to fix one in mere minutes, like these delicious options we have selected for you.

Enjoy Rougié cassoulet, André Laurent choucroute (sauerkraut), Pérard fish and seafood soups, Karine & Jeff organic ready-cooked traditional dishes, Mousline mashed potatoes, and Lustucru golden skillet rice even on those crazy busy days.

This month's deals: 20% off LU Prince cookies, Liptonic sparkling iced tea, and Teisseire elderflower syrup (coupon code FEB2018)
Just in: more French food favorites
Among the French food favorites
recently added to our shelves you will
find Lustucru golden skillet rice,

Les Mouettes d'Arvor sardines with olive oil and lemon,

and Pitch chocolate brioche roll, a French kids' favorite
.
If there is a French treat you would like to find on our website, please
share
your craving with us.
Suggestions for your French agenda
So many exciting French cultural events all around the USA this month and next. We hope you'll enjoy our picks!
With its Essential Cinema: Agnès Varda series the Austin Film Society pays tribute to the still utterly current New Wave director. Through February 22.
In Cambridge, the Harvard Film Archive also presents a retrospective of Agnès Varda's films. Through March 5.
Like every year Chicago's Alliance Française celebrates Francophonie (French language and Francophone cultures around the world) with an exciting line-up of events throughout the month of March. March 2-29.
Chicago's Art Institute presents Rodin: Sculptor and Storyteller. Through March 4.
In Chicago Doc Films presents Le Samouraï: An Alain Delon Retrospective. Through March 7.
The Cleveland Museum of Art marks the centennial of Rodin's death with a display of works from the museum's permanent collection, Rodin – 100 Years. Through May 13.

The Denver Art Museum presents Degas: A Passion for Perfection, an exhibition showcasing more than 100 works by the prolific French master. Though May 20.
The Detroit Institute of Arts presents Monet: Framing Life. Through March 4.
Et Voilà Théâtre, the Houston-based French speaking theatre company presents its new production, Un Air de famille (A Family Affair), a publicly and critically acclaimed play by Agnès Jaoui and Jean-Pierre Bacri. In French with English supertitles. March 3-17.
In Milwaukee the 21st annual Festival of Films in French presents an eclectic selection of exciting recent films. Through February 25.
The Milwaukee Art Museum presents Designing Paris: The Posters of Jules Chéret. Through April 29.

In New Orleans the 21st annual French Film Festival showcases excellence in contemporary and classic French cinema. February 23 through March 1.
The New Orleans Historic Collection presents New Orleans, the Founding Era exhibition, in commemoration of the city's 300th anniversary. February 27 through May 25.
New York's FIAF promises to amaze us with its new film series, Best Actress: A César-Winner Showdown. Through March 6.
In Omaha Filmsteams presents Great Directors: Agnès Varda, a selection of notable films by the singular New Wave director. Through March 28.
In Pasadena the Simon Norton Museum presents Taking Shape: Degas as Sculptor. Through April 9.
The Providence French Film Festival treats us to an exciting lineup of recent films. February 24 through March 3.
In Springfield, MO, Moxie Cinema showcases the essential New Wave films everyone should see on the big screen once in their lifetime. February 4-26.

The 10th Annual Robert Classic French Film Festival celebrates St. Louis' Gallic heritage and France's cinematic legacy. March 2-25.

Last but not least, Carla Bruni will soon embark on a North America tour. She will perform in Alexandria, VA, Boston, New York, Montreal, Toronto, Los Angeles, San Francisco, and Seattle. February 13-25.
Try our recipe for hachis parmentier

This tasty ground beef and mashed potato gratin is a favorite for quick-to-fix meals in France. Kids love it!


Ingredients (serves 4)
2 onions
2 cloves of garlic
2 tsp butter
2 tomatoes, diced
400 grams (1 lb) ground beef (or pork)
1 Tbsp all-purpose flour
salt and pepper to taste
1 Tbsp Provence herbs
1 egg yolk
grated Parmesan cheese
300 grams (10 oz) mashed potatoes (use our Mousline mix)
grated Gruyère

Preparation (25 minutes active time)
Preheat your oven to 180ºC (350ºF). Sauté the minced onions and garlic with the butter in a large pan. Add the diced tomatoes, ground meat, flour, salt, pepper and Provence herbs. Mix and cook for about 10 minutes. Remove from heat and incorporate the egg yolk and grated Parmesan cheese. Lay the mixture in a gratin tray. Cover with a layer of mashed potatoes and spread some grated Gruyère all over the top. Bake for about 20 minutes. Serve hot with a side of green salad.