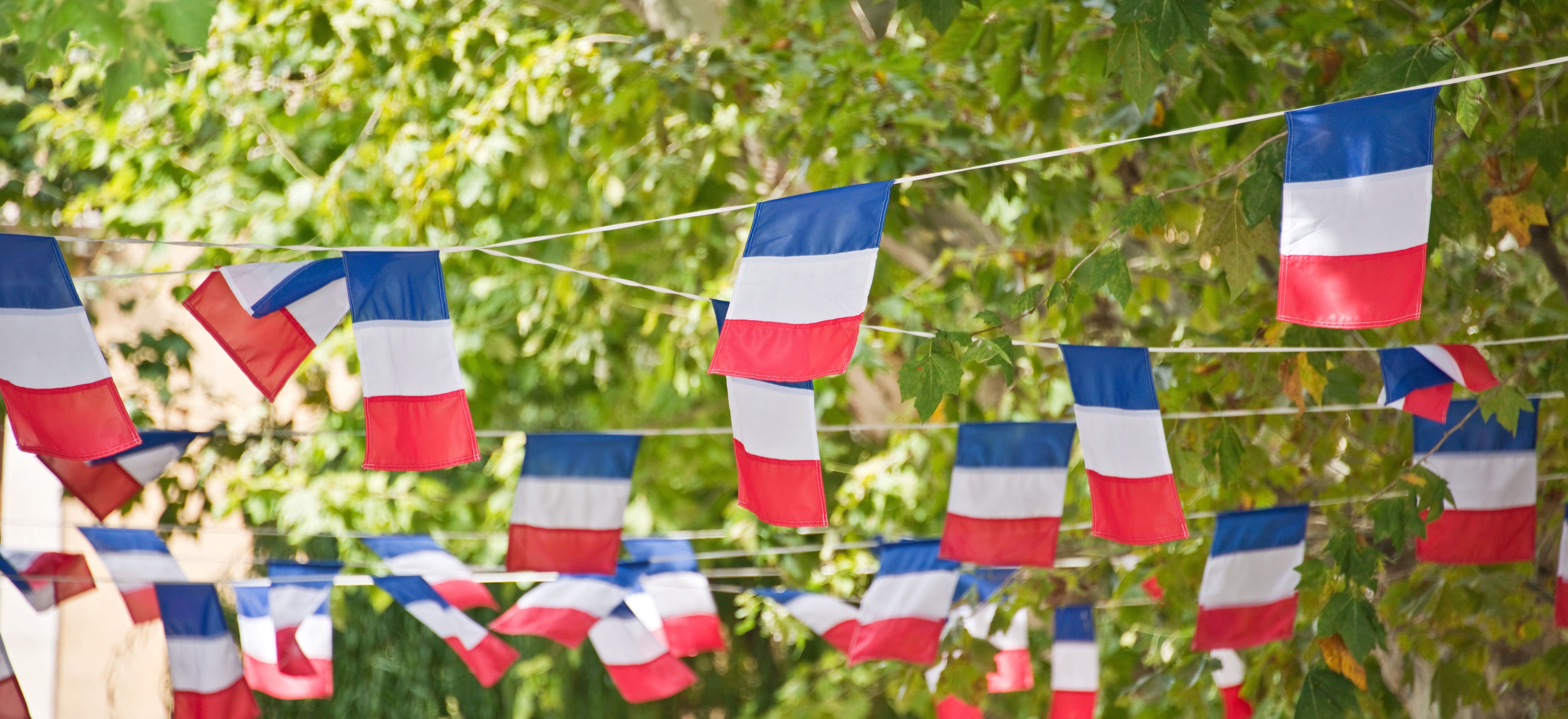 Happy upcoming Bastille Day! This year again
Simply Gourmand
is proud to participate in America's largest celebration of France's national day:
Bastille Day on 60th Street
. If you are in New York this Sunday, don't miss this vibrant all-French street fair and be sure to come to our booth to chat and shop! We look forward to seeing you from 12 noon to 5pm.
Not in New York? Check out our event
calendar
t

o see where else you can celebrate Bastille Day in the United States (hint: in plenty of cities). Keep in mind that many events are scheduled around the 14th of July but not necessarily on that exact (official) date.

Want to throw your own Bastille Day party? All you need is a bunch of friends and some of our
iconic French party foods
. Vive la France (gourmande)!

This month's deals: 20% off Bonne Maman raspberry tartlets, Eugène Blond chocolate wafers, and Teisseire orange syrup (coupon code JUL2018)
Just in: more French food favorites
Among the French favorites
recently added to our shelves you will
find
Panzani fine semolina
,
Anisé, the alcohol-free, sugar-free thirst-quencher that will make your (hot) day,
and

TUC crackers, a French apéritif staple. Just in time for Bastille Day!
If there is a French treat you would like to find on our website, please
share
your craving with us.
Suggestions for your French agenda
Let's start with upcoming Bastille Day celebrations, not all of which are scheduled on July 14, the official date of France's national day. Be sure to check the details by clicking your location.
Still hungry for French culture? There are so many exciting more French cultural events all around the USA this month and next. We hope you'll enjoy our picks!
Atlanta's SCAD FASH Museum of Fashion & Film presents Pierre Cardin: Pursuit of the Future, a retrospective of the work of the legendary fashion futurist. Through September 30.
Boston's Museum of Fine Arts presents French Pastels – Treasures from the Vault. Through January 6, 2019.
In Chicago Films on the Lake, the free outdoor French film festival organized every year by the French consulate, returns with an exciting line-up revolving around music and song. Through September 7.
In New York Films on the Green, the free outdoor French film festival organized every year by the French embassy, returns with an exciting line-up exploring the profound bond between French culture and gastronomy. Through September 6.
New York's Metropolitan Museum explores horticultural developments that reshaped the landscape of France with its exhibition Public Parks, Private Gardens – Paris To Provence. Through July 29.
New York's French Institute (FIAF) presents its new film series, Burning Bright: New French Film Makers. Through July 31.
In Philadelphia the Barnes Foundation explores the works of acclaimed director Jean Renoir and the influence of his father, Pierre-Auguste Renoir, on his art and life with Renoir: Father and Son / Painting and Cinema. Through September 3.
San Francisco's Legion of Honor museum presents Paris 1913: "La Prose du Transsibérien" and the Flowering of the Avant Garde. Through August 12.
Last but not least, iconic actress and singer Charlotte Gainsbourg will be briefly in the USA next month. She will perform her music in Los Angeles and New York. July 22-27.
Pain surprise (surprise bread) is a French party favorite. Surprise your guests with this or your own variation!
Ingredients
1 large loaf bread
1 jar black olive tapenade
1 jar green olive tapenade
1 jar duck rillettes
1 tin pork rillettes
1 jar sardine rillettes
1 bouquet parsley

Preparation
With a long serrated knife cut the top and the bottom of the bread. The remainder of the bread should be either (roughly) rectangular or cylindrical. Following the shape of the side crust and leaving about ½" thick bread circle, cut the whole crumb vertically. Make sure to cut to the bottom. Put the bread circle back on the bread bottom.
Slice the whole crumb horizontally, then cut each large slice in square or triangular pieces (depending on the shape of the large slice).
Make small club sandwiches with tapenades and rillettes, adding parsley leaves, then place them in the bread circle. Alternate fillings. Half-cover with bread top. Et voila, your pain surprise is ready to be enjoyed!